Contractor sells its 50% stake in the Pinderfields and Pontefract Hospital to a co-investor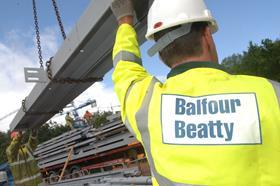 Balfour Beatty has sold its 50% stake in a West Yorkshire hospital for £61.5m.
The firm has sold its stake in the Pinderfields and Pontefract Hospital public-private partnership (PPP)project to listed infrastructure company InfraRed Capital Partners, which is already an investor in the scheme.
The firm said the consideration of £61.5m "exceeded management's expectations" and generated a gain of £42.2m. It said the valuation exceeded the directors' valuation, recently revised upwards, by £13.5m.
In August the firm unveiled a revaluation of its total global investment portfolio to £1.1bn, an uplift of 46%.
Ian Rylatt, chief executive of Balfour Beatty Investments, said the disposal "supported the substantial increase" in the valuation of the PPP portfolio.
Balfour Beatty also announced that it had reached financial close on a housing scheme in Florida in the USA, called Carmendy Square. It also said it had been named as preferred bidder on two student accommodation projects in Texas and Australia.
The firm expected to invest £20m of equity into these three projects over the next three years.