UK's biggest builder says margins of 3% on the cards for second half of 2018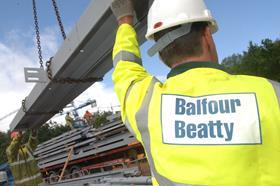 Balfour Beatty said its recovery plan is on track as the contractor remains confident of delivering "industry-standard margins" in the second half of 2018.
In a trading update to the City this morning ahead of its full year results on 14 March, it said the second phase of its Build to Last transformation programme is "continuing to deliver fundamental change to the group" with performance in line with expectations.
Net cash for the year is expected to be in line with the prior year at around £40m with the 2017 year-end order book also expected to be broadly in line with the half year, post disposals.
Balfour said the sale of its US project management arm Heery International to property group CBRE for $57m (£42m) in October, as well as operating cash flows and expected future sales, place it in an "excellent position to pay down borrowings as they fall due in 2018".
Leo Quinn, group chief executive at Balfour Beatty, said: "The actions that we have taken during the first three years of Build to Last have laid a solid foundation for long-term profitable growth. We continue to invest in our capabilities while de-risking the business.
"The order book increasingly consists of projects bid and delivered under our enhanced transparency, governance and controls and I remain confident that the Group will achieve industry-standard margins in the second half of 2018."
In August, Balfour saw a pre-tax profit jump for the first half of the year as it continued its recovery after recording massive losses in 2015 and 2014.
In 2015, the firm's construction arm had racked up a £280m operating loss compared to a £391m deficit a year earlier with overall pre-tax losses coming in at £199m compared to £304m in 2014.
Speaking to Building at the time, Quinn said Balfour might not return to making "industry standard margins" until 2018, which he said meant 2-3% margins in construction.
But in August, it posted a pre-tax profit of £12m for the first six months compared to £10m for the whole of 2016 and up on the pre-tax loss of £15m for the first half of last year. Revenue increased 5% from £4bn to £4.2bn.
Balfour's UK construction business also returned to profit in the first half of the year, reporting a slim £2m versus the £69m loss for the same period 12 months earlier.