Contractor says it will make up shortfall in second half of the year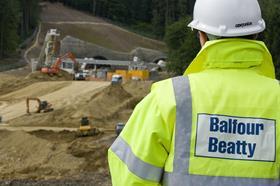 Contractor Balfour Beatty has warned that its results for the first half of the year will be worse than expected, though it says it will make up the shortfall over the next six months.
The firm said it had been impacted by a downturn in the market for professional services in Australia, due to the cancellation of major natural resources projects, which were also impacting on government and state spending.
In a trading update for the six months to 28 June, it said performance in its UK construction business, which issed a £50m profit warning in April, has been as "weak as expected".
However, it said it expected the business to "break even" over the year, "as the management team, led by the newly-appointed UK Construction CEO, focuses on improving operational performance".
In addition, it said the worsening position in Australia would ultimately be offset by improved performance in professional services generally, and the continuing disposal of PFI assets, which had recouped £45m more than expected, meaning performace over the whole year would meet management expectations.
The firm also announced it had won a place in joint venture on a £91m framework for Australia's largest water supplier, Sydney Water. Its forward order book remains at £16bn, and its net debt has worsened to £300m, as expected.
It's statement said: "Our markets continue to be very challenging, and we continue to take action to mitigate the impacts on our business. Due to the timing of these actions and the anticipated recovery in the performance of the UK Construction business, we expect our profits to be significantly more skewed to the second half than in previous years, with the full-year result remaining in line with management's expectations."