Contractor to convert a section of the M3 into a four lane motorway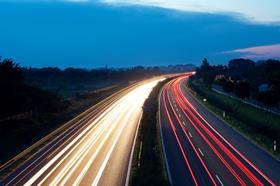 Balfour Beatty has won a £129m job to convert a 13 mile stretch of the M3 into a smart motorway.
The job for the Highways Agency will involve upgrading a section of motorway between junction two and junction 4a so the hard shoulder can be used as a fourth lane.
The firm will also install electronic signs above the motorway to manage the flow of traffic.
Construction work on the scheme is scheduled to start this autumn and complete by spring 2017.
Steve Marshall, executive chair of Balfour Beatty, said: "The Highways Agency's approach to using technology in this way reduces the costs of the road network, provides additional capacity and improves journey times.
"This award further strengthens our position as one of the UK's leading contractors for smart motorways and reflects the strength of the relationship we have built with the Highways Agency over the last 20 years."
Balfour Beatty is also working on two other smart motorway projects for the Highways Agency.
It is currently working on a £184m conversion of a stretch of the M60 and M62 into a smart motorway; and a £88m project to convert a 12 mile stretch of the M25 into a smart motorway, which it is doing in a joint venture with Skanska.