Part-owned subsidiary Gammon Construction scoops science park project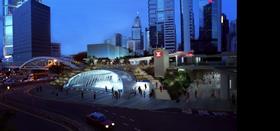 Balfour Beatty's part-owned subsidiary Gammon Construction has scooped a £175m contract to build an extension to Hong Kong Science Park.
The Science Park already houses 350 hi-tech firms in areas including electronics, telecoms and IT.
Gammon – which is 50% owned by Balfour Beatty – is building a 105,000m² extension, equivalent to 400 tennis courts.
Construction is starting this month and is expected to be completed by December 2013.
Balfour Beatty chief executive Ian Tyler said: "We are delighted that Gammon has been awarded this high-profile contract.
"Along with other state-of-the-art infrastructure projects that Gammon has undertaken in Hong Kong, including the Tamar Complex which we completed recently for the Hong Kong Government, the award of the new science park at Pak Shek Kok demonstrates our credentials in green building."