Contractor will develop the two million sq ft River Landing Shops and Residences project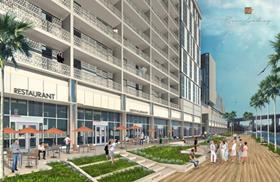 Balfour Beatty has won a $260m (£193m) contract to build a mixed-use scheme in Miami.
The contractor will develop the River Landing Shops and Residences project within an 8.1 acre plot along the Miami River.
It will offer two million sq ft of retail and residences in the US city's Civic Centre, including two buildings that will feature 475 rental apartments and a five-storey shopping centre.
Construction is expected to start later this year and is due for completion in the fourth quarter of 2019. At its peak, the project will employ a team of around 750 people.
Balfour Beatty is building it for real-estate investment trust, H&R REIT and Urbanx Company in association with real estate developer, Matthews Southwest - a longstanding client since 2009.