Balfour Beatty to build major new commercial and retail block as part of £320m St James's Market development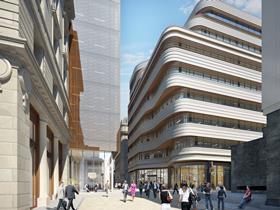 Balfour Beatty has won an £87m contract to build a major commercial and retail scheme that forms part of the £320m St James's Market development in central London.
The contractor will build 260,000 sq. ft. of new commercial and retail space across two eight-storey blocks between Regent Street and Haymarket.
The appointment came as developers the Crown Estate and Oxford Properties announced they had sealed a joint venture agreement to finance the £320m Make-designed St James's Market scheme.
The first block, situated along Regent Street, includes a retained heritage façade which will be repaired and restored as part of the contract.
The second block, adjacent to Haymarket, will incorporate an aesthetic curved glass and Portland Stone wall that will be installed in four by three metre sections using a tower crane.
Balfour Beatty said it would use BIM as well as offsite construction.
Balfour Beatty chief executive, Andrew McNaughton said: "Working within [London] invariably presents its challenges but the investment we have made in digital technology and modular construction will come to the fore on this project and we look forward to demonstrating our expertise."
Works commence on site this autumn and are due for completion in summer 2015.