Group breaks even as infrastructure investments and support services divisions report rise in profit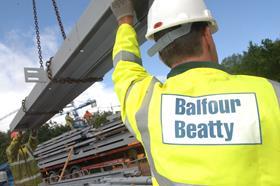 Balfour Beatty's Construction Services division has reported deepening losses in the first half of 2014 as the group as a whole broke even.
The Construction Services division reported an operating loss from continuing operations of £69m in the six months to 27 June, down from a loss of £39m over the same period last year.
The firm said that the loss was largely due to the operational issues in its engineering services business, which it warned the City about in May, and "to a lesser extent, the UK major building projects business". It said trading remained in line with its most recent trading updates.
It added that the UK construction services order book had fallen 11% "largely due" to more "selectivity in bidding activity" and "reduced order intake" in its engineering services business.
The firm said it had "strengthened" the management control in the engineering services business and was "improving transparency" and introducing "greater scrutiny of contract positions".
It added: "The problem contracts are being stabilised, with the majority of the loss making contracts due to complete in 2014. Whilst short term risks still remain, we continue to pursue contractual entitlement."
Balfour Beatty said its regional UK construction business was experiencing "improved margins" but that this was "from a low base" and would "take time to feed through into profitability".
But it added that it had reduced the number of unprofitable business units and expected all its regional businesses to be profitable by January 2015.
However, it said its UK major building projects construction business experienced "further cost increases of approximately £10m and delays during the first half [of the year]".
The firm's UK major infrastructure projects arm, also part of the construction business, reported that its order book was 6% up on this time last year.
The firm said that it had reduced overheads across its construction business by £40m but it added that "as revenues have also declined over that period, overall overheads have remained above 6%".
However, the group reported a return to pre-tax profit from continuing operations of £1m in the first half of the year on revenue of £4.85bn, up from a £4m pre-tax loss from continuing operations over the same period last year.
Balfour Beatty Group reported a fall in revenue of 2%, down from £4.96bn.
It also reported that its order book had fallen slightly to £13bn on 27 June, down 1% from the beginning of the year.
The firm's support services business reported a 5% fall in revenue from continuing operations to £615m in the first half of 2014, down from £648m in the first half of 2013. But the division's operating profit from continuing operations before exceptional items increased to £22m in 2014, up from £17m in 2013.
Balfour Beatty's infrastructure investment divisions reported an increase in operation profit before exceptional items to £72m, up from £63m. The firm said the increase was driven by disposal gains of £51m and "revisions to expected lifecycle and other operating costs within the PPP investment portfolio".
Balfour Beatty also updated the City on the sale of Parsons Brinckerhoff. It said that round three bids were "expected very shortly" and there was "strong competitive interest".
It said it expected to return up to £200m from the sale to shareholders.