Duncan McGrath follows executive chairman Steve Marshall in announcing exit from the troubled contractor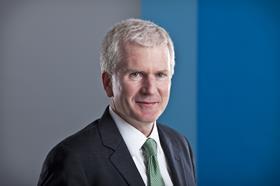 Balfour Beatty's finance boss Duncan McGrath is to leave the troubled contractor next year, the firm has announced, joining executive chairman Steve Marshall in stepping down from the business.
Balfour Beatty said this morning that McGrath would leave the firm in 2015 following a process to appoint his successor.
McGrath has been with the company for eight years, including six years as chief financial officer.
The firm said McGrath would continue as a member of the Board and as CFO until his successor has been identified.
The firm said a search for a new CFO was now underway.
McGrath's departure follows a dire period for the contractor, which has issued five profit warnings in less than two years, with the firm's share price sinking to the lowest level since 2003.
Last month the firm announced the appointment of a new group chief executive, Leo Quinn, group chief executive of defence technology contractor Qinetiq, who will take up the reins at Balfour in January.
In September executive chairman Steve Marshall, who took on the executive role after the departure of chief executive Andrew McNaughton in May, said he would also be standing down.
Both Marshall and McGrath played key roles in the failed merger talks with Carillion over the summer, which broke down over Balfour's move to sell consultant arm Parsons Brinckerhoff.
The sale of the US consultant to WSP for £820m completed last week.
Steve Marshall, executive chairman, said: "Duncan has been our CFO for six years. He has shown huge personal commitment to Balfour Beatty, and particularly in the recent more challenging times, his contribution and his resolve under pressure has been unwavering.
"Following the completion of the Parsons Brinckerhoff disposal and the announcement of our new group CEO, Duncan will be seeking new career challenges in 2015.
"In the meantime, he will continue on the Board as Group CFO, and will remain as strongly committed to this role as he has always been."