Balfour Beatty lined up for consrtuction partner role on £350m engineering campus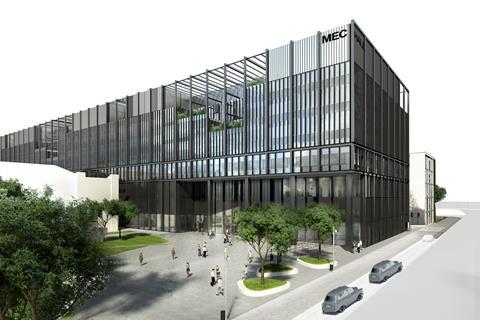 The University of Manchester has entered into an engagement process with Balfour Beatty to build its new £350m engineering campus.
They hope to have a pre-construction services agreement in place towards the end of the year and to formally award the contract in spring 2016.
The Manchester Engineering Campus Development (MECD) will be one of the largest, single construction projects ever undertaken by a higher education institution in the UK.
Part of the university's campus masterplan the build is scheduled for completion in 2020 and will be located opposite the new National Graphene Institute on Booth Street East, acting as a gateway between the university and the city.
It will have a floor space the size of 11 football pitches and will become home to the University's four four engineering schools and two research institutes, accommodating 6,750 students and 1,300 faculty staff.
The university hopes it will transform the way in which future engineers are educated.
The architects on the MECD project are Mecanoo and demolition of the former Grosvenor Halls of Residence has already begun, concluding in the first half of 2016.
The new campus is being delivered through the university's Construction Partnering Framework - Balfour Beatty alongside Laing O'Rourke and Sir Robert McAlpine were appointed to this in June this year.
Professor Martin Schröder, vice-president and dean of the faculty of engineering and physical sciences at the University, said: "This outstanding new campus development will build upon our proud heritage of innovation and discovery across engineering and science that began with the establishment of the Manchester Mechanics' Institute in 1824."
Once complete, the Manchester Engineering Campus Development will become home to the University's four engineering schools and two research institutes from the Faculty of Engineering and Physical Sciences.
Demolition of The University of Manchester is inviting local residents, businesses and stakeholders to attend an exhibition of plans for the new engineering campus. The drop-in session will be held on Thursday, 10 September, at the James Chadwick Building, 4thfloor, EBL Room 6 from 3-7pm.