Scheme to complete in 2021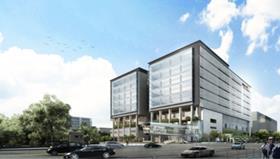 Balfour Beatty has revealed that its Far East joint venture Gammon Construction has been awarded a HK$4.75bn (£490m) contract to build an Advanced Manufacturing Centre.
The project is being developed by the Hong Kong Science & Technology Parks Corporation.
The contract will see Gammon deliver the 108,000m² facility, which includes a seawater district cooling system.
This system, which will be used to cool the entire building, has been described as a cost and energy efficient way of cooling the facility.
Gammon's job will include all mechanical, electrical and plumbing services, the building facade and steelworks.
The contractor will use BIM, modular construction and off-site manufacturing techniques to improve safety and quality and cut back the timescale of the project.
The project is due to be finished in 2021 and will employ a workforce of around 1,800 at peak construction.