Contractor lands deal to electrify 52 miles of high-speed rail line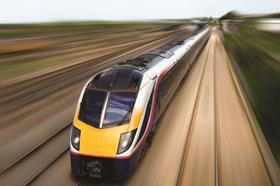 Balfour Beatty has won a £524m deal to electrify a 52-mile high speed rail line in California, the largest contract it has won in the US.
Under the deal, the firm, which releases its half year results tomorrow morning, will undertake electrification of the Caltrain rail corridor between San Francisco and San Jose to the south, to enable the line to be used by high speed trains.
Balfour Beatty Infrastructure – the company's North American infrastructure division – will design and build a 25kv AC overhead catenary system to serve as the power source for new high speed trains.
In addition, it will construct two traction power substations, one switching substation and seven paralleling substations, and will also replace signal systems and earth existing facilities along the 52-mile line.
The project is due to start in the autumn with completion expected in spring 2020. Balfour said it will employ over 300 staff at the peak of the project, which will also include 50 apprentice opportunities.