Paul Toyne leaves as part of a restructure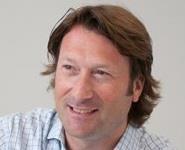 Balfour Beatty's sustainability boss Paul Toyne (pictured) has become the latest senior director to leave the contractor as part of a restructure.
Toyne - who as group head of sustainability was in charge of greening the £8bn-turnover firm's projects - departed after Balfour merged its sustainability, environment and energy operations with health and safety.
Heather Bryant, who was previously health and safety director, has taken on a new role leading the combined team as health, safety, environment and sustainability director.
Since the start of last year there have been more than a dozen senior departures from Balfour, including London boss Paul Gandy, his second in command Jeremy James, and North-east boss Eddie Tribe.
Gandy left Balfour late last month, after almost three years at the firm. In an email to staff announcing the merged operations, Balfour Beatty said the move "recognises the clear links" between the environment and health and safety.
It added: "Paul leaves with our thanks for his valued contribution to this business and with our best wishes for the future."
Balfour underwent heavy restructuring in 2015, resulting in the loss of 650 staff, while in the past three and a half years the firm has lost a chairman, two group chief executives, two finance directors, and two chief executives of the UK construction business.