Exclusive: Contractors invited to bid for second batch of priority schools in the North-west, amid fears of delays to Pf2 programme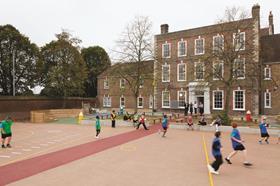 Willmott Dixon and Bam Construct have been shortlisted for latest batch of schools to come to market through the government's flagship priority school building programme, amid fears over further delays to the £2bn privately financed element of the programme.
Building understands Bam Construct and Willmott Dixon have been invited to tender for the second batch of schools in the North-west of England, understood to be worth around £25m, which are the latest to come to market through the £400m directly-funded element of the Priority School Building Programme (PSBP).
The batch is expected to comprise five to six schools in Liverpool, St Helens and Wirral.
This follows Carillion and Bam being shortlisted for the first batch of schools in the North-west, worth around £42m, which comprises around eight schools in Blackpool, Cheshire West, Halton, Manchester, and Tameside.
Meanwhile, Kier and Interserve have been invited to tender for the £40m batch in the South of England. It is understood that just three firms bid for the batch, which comprises eight to 10 schools in Devon, the Isle of Wight, Kent, Poole, and Southampton.
The news comes in the same week that the Department for Education (DfE) admitted it had yet to attract sufficient private finance into PSBP and is exploring a range of options, including the bond markets and the European Investment Bank.
Sources close to the situation said the problem was partly because the equity terms of PF2 are less attractive to investors, while banks are reluctant to lend over the long term.
Work through the PSBP was initially expected to be tendered in April 2012 so construction could begin in 2012 but was pushed back to "late summer". As Building revealed in August, the programme was then delayed again, with the PF2 element not expected to come to market until the first quarter of this year.
But now there are now concerns that the lack of finance could lead to further delays to the PF2 schools. "There are fears it could slip to 'summer' – which for government means September," one source said. "But I think it will be May or June."
A DfE spokesperson insisted that there were no further delays to PF2, with the first schools to come to marketw "shortly".
She added: "It is essential that we take time to secure the right finance arrangement for each school and the best possible deal for the taxpayer, and we are looking at a number of options including a bond finance solution.
"The Education Funding Agency is speaking with interested parties in the funding market, including the European Investment Bank, about possible participation in that funding solution. No formal role has been identified or agreed beyond this."