AHR-designed building features an 800m ² atrium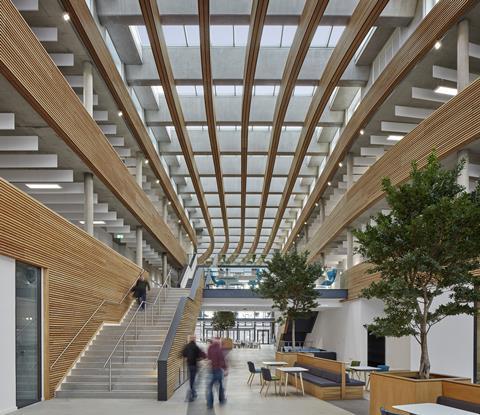 Bam has completed work on a new headquarters building for the UK Hydrographic Office in Taunton, three years after the initial design work began.
The 11,000m² office block, designed by AHR, will house the marine geospatial information agency which collects and supplies data for the Royal Navy and merchant shipping.
Featuring an 800m² atrium – whose roof was cast off-site by the contractor – 3.5m floor-to-ceiling windows and open balconies, the project is on course to achieve BREEAM Excellent.
Adam Spall, regional director at AHR, said the design concept took inspiration from the hydrographic office's work, following the theme of 'Seabed to Surface' with images of strata, contours and water currents influencing the design throughout the building.
Others to work on the Somerset scheme, included cost consultant Mace, MEP engineer Hydrock and clerk of works Hickton.