The project is expected to wrap up next summer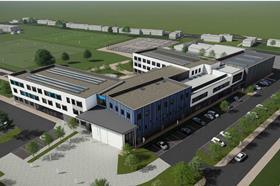 Bam has been handed the contract to deliver a £34m school in Aylesbury.
Buckinghamshire County Council appointed the firm to build St Michael's Catholic School's Aylesbury Campus scheme.
Construction of the satellite school, which will eventually be home to just over 1,000 pupils, was procured under the Southern Construction Framework.

Bam was appointed to a preconstruction services contract in September 2017.
The NPS Group-designed building features two teaching wings located around a central courtyard.
Brian Connor, construction director for Bam, said: "All the conventional elements of learning for ICT, technology, arts, science and general teaching will be implemented at St Michael's, plus there are external works for sports pitches and multi-use games areas, as well as a large sports hall."

The school will initially take in 120 students when it opens in temporary accommodation at Bierton Hill in September 2018 and will grow yearly to full capacity. The new buildings are due to be ready for occupation in summer 2019.