Steel fabricator also hit with £65,000 fine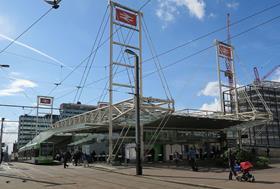 Bam Nuttall has been fined £900,000 after a painter fell through a ceiling at East Croydon station.
Paul Welstead fell 10ft through a ceiling into a passenger waiting room on 7 January 2015.
The contractor admitted failing to put proper procedures and safeguards in place.
Welstead, who was aged 31 at the time of the accident, suffered severe ligament damage and has been unable to return to work as an industrial painter since the fall.
Steel fabricator McNealy Brown was fined £65,000.
The companies admitted to health and safety breaches at Croydon crown court in a prosecution brought by the Office of Rail and Road.
The court heard that the two companies agreed the £12m contract with Network Rail to undertake the replacement of station floor surfaces, canopy roofs and cladding.
Bam Nuttall started work in January 2014 and later that year a third company, DRH, was asked by the existing contractors to supply industrial painters to undertake specialist tasks.
Welstead and a colleague were given a site induction when they arrived for work a week before Christmas 2014 but were not briefed on the risk assessment, which required work over the platforms to be undertaken at night, for workers to wear full body harnesses and for the waiting room below to be locked.
Returning to work on 7 January following the Christmas and New Year break, the pair were not given another safety briefing, nor warned about fragile roofs, and later that morning Welstead fell through the unguarded suspended ceiling into the waiting room below.