Bam Nuttall has replaced Galliford Try on one of the three teams bidding for the £589m Mersey Gateway bridge project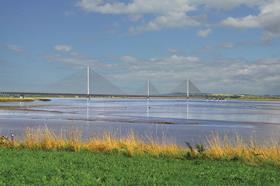 The team behind the Mersey Gateway Project (MGP) – a £589m six-lane toll bridge planned to cross the River Mersey – said Bam Nuttall has joined the MGL consortium to replace Galliford Try Investments Limited.
MGP said Halton Borough Council had formally reassessed the revised MGL consortium and has approved the change.
MGP said project representatives were now continuing the ongoing dialogue process with all three bidding teams with the aim of concluding this towards the end of 2012 and announcing a preferred bidder in the spring of 2013.
The MGL consortium is one of three shortlisted by MGP team to compete for a contract to design, build, finance and operate the new toll bridge that will run over the River Mersey between Runcorn and Widnes and associated work in the towns.
The three consortia bidding for the Mersey Gateway Project are:
Balfour Beatty, Bouygues Travaux Publics, Egis Projects consortium, comprising equity members Balfour Beatty, Bouygues Travaux Publics and Egis Projects
Merseylink consortium, comprising equity members Macquarie Capital Group Limited, Bilfinger Berger Project Investments Limited, Vialia Sociedad Gestora de Concesiones de Infraestructuras S.L. and FCC Construcción S.A
MGL consortium, comprising equity members BAM Nuttall, Hochtief PPP Solutions GmbH and Iridium Concesiones de Infraestructuras S.A.
Steve Nicholson, Mersey Gateway Project Director, said: "Changes to consortiums on projects of this scale are not unusual and the fact that a replacement partner has joined the consortium shows there is a high level of interest in delivering this project. The procurement timetable will continue as planned and we anticipate selecting a preferred bidder in spring next year."