Contractor wins largest package of work to date on 5,000-home scheme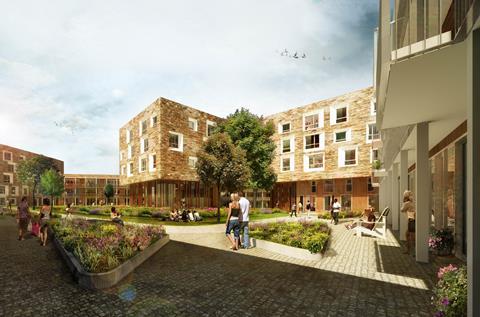 Bam has landed two jobs on the University of Cambridge's 5,000-home North West Cambridge scheme, together worth £80m.
It is thought to be the largest package of work to be awarded on the project to date.
Bam will construct a large portion of the new local centre, named Eddington, including 352 homes for university and college key workers, a supermarket, retail units, a doctors surgery and the shell of an energy centre.
The homes will be built to level five of the Code for Sustainable Homes and the energy centre will be built to BREEAM Excellent standard.
Bam will build to the designs from Wilkinson Eyre, Mole Architects, Mecanoo and landscape architects, Townshend, and will work alongside the North West Cambridge development consultants, Turner and Townsend on project management and Gardiner and Theobald on cost management.
Aecom is North West Cambridge's masterplanner.
Earlier this month Graham Construction and Willmott Dixon were awarded other elements of the first phase of the project.
Graham Construction won a £26m contract to build post-graduate student accommodation buildings, while Willmott Dixon won an £11m primary school that will be run by the university.
Skanska won a £49.9m package to provide site-wide infrastructure for the project in August this year.
Overall the £1bn scheme will comprise 1,500 homes for university staff, 1,500 private houses for sale, accommodation for 2,000 postgraduates, 100,000m2 of academic and research space, community facilities, a hotel, a care home, a sport centre and public parks.
Works on the site wide infrastructure began in Winter 2013 and there will be phased completions for the North West Cambridge development, with the local centre open from Spring 2017.
Gavin Heaphy, construction director of the North West Cambridge development, said: "BAM's considerable experience in the realisation of large and complex projects, coupled with their commitment to sustainable delivery made them the right choice to become our partner for two major lots on the development."
Stuart Robinson, construction director for Bam, said: "It is a pleasure to work with the University of Cambridge on its impressive development within the City. Our work forms a major part of their scheme and will require expertise and considerate management skills.
"We will draw on our strong track record in Cambridge, having delivered the complex Laboratory of Molecular Biology for the Medical Research Council, and a new University Technical College here. Our knowledge of the local supply chain and the community allows us both to be an efficient contractor and a good partner. It's an exciting project, and we're keen to get started."