Contractor begins £26m National Indoor Arena redevelopment job this month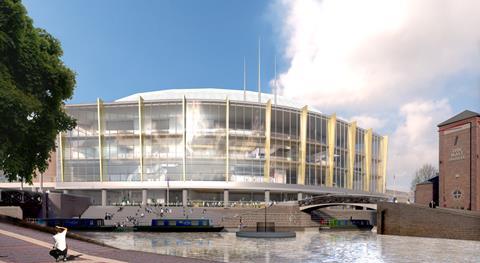 Contractor Bam Construct is commencing work on the £26m redevelopment of Birmingham's National Indoor Arena (NIA) this month.
The redevelopment will add 5,926 m2 of pre-post-show space to the 13,437 m2 development.
'Sky Needles' will be added to the top of the NIA which will be visible on the Birmingham skyline and lit up at night.
The NIA redevelopment is due for completion in winter 2014.
Phil Mead, Managing Director of Arenas, NEC Group, said: "As the second largest city in the UK, it's vital that Birmingham remains at the top of its game and the redeveloped NIA will contribute to the future of the city and the Big City Plan.
"The NIA sits at the heart of Birmingham and welcomes world-renowned singers, athletes, comedians and performers who all help to shine a light on what the city has to offer. We are delighted that work will start this June to make our vision a reality for Birmingham, our clients, audiences and visitors.
"Bam Construction presented a most compelling case which resulted in them being awarded the main contract and we look forward to working in partnership with them to deliver this exciting project."