Contractor confirms it has been appointed to project, after Wates and university failed to agree on a price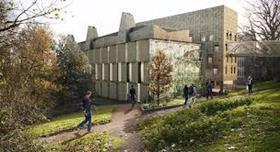 Bam Construction has been confirmed as the main contractor on the University of Exeter's £50m green research centre, after the firm took over the contract from Wates.
Bam confirmed this week it had taken on the £32m contract to build the university's Living Systems Institute, designed by architect Hawkins Brown, which will focus on the diagnosis and treatment of a wide range of human, animal and plant diseases.
The building has been designed to achieve a BREEAM Excellent rating, with solar panels and high levels of insulation as well as a combined heat and power plant.
It will consist of two linked buildings on a split level site, with a tower block nine storeys high and a slab block reaching six storeys, three storeys being basement levels with significant excavations and temporary works.
The project is entering its main construction phase this summer, with completion scheduled for May 2016.
Wates was originally appointed as main contractor on the university's Living Systems Institute building last year, having beaten of competition from Bam Construct, Kier, Mansell and Interserve for the job.
However, as Building revealed in January, the firm was replaced by Bam on the job after Wates and the university were unable to agree on a price.
Aecom is acting as civil and structural engineer on the project, with Hoare Lee the services engineer.