HMRC will take the majority of the 284,000ft2 space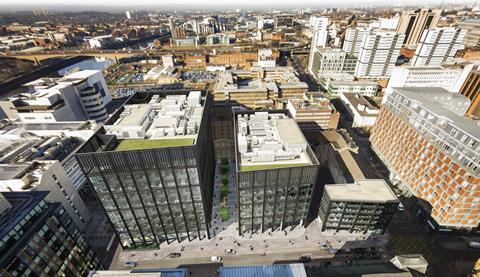 Bam will start work on the new £100m office development at Atlantic Square, Glasgow next month, with the majority of the space to be taken by HMRC.
The developer BAMTCP Atlantic Square is a joint venture between Bam Properties and TCP Developments, and LGIM Real Assets (Legal & General), and will see the construction of the 284,000ft2 office space across two buildings.
More than 187,000ft2 of this will house HMRC and will be funded by Legal & General Retirement, eventually accommodating around 2,700 full-time employees from across the department by 2021. BAM TCP Atlantic Square will fund the remaining 97,000ft2 of space, which will be complete and ready for occupation in 2020.
The two buildings have been designed by local architect Cooper Cromar with further refinement by Bam Design and the scheme built by Bam Construction.
Dougie Peters, managing director of Bam Properties, said the Bam TCP joint venture is speculatively developing the second building because it believes "there is a high level of demand in Glasgow for premium office space".