Contractor will build facilitiy for Sheffield Hallam University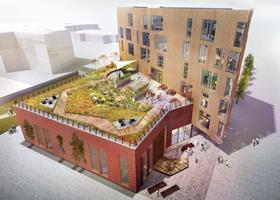 Bam has been appointed to build a £14m Advanced Wellbeing Research Centre for Sheffield Hallam University.
Construction work is scheduled to start in February 2018 and it will form the centrepiece of the Sheffield Olympic Legacy Park.
The centre, which is designed by HLM Architects, will include a 7.5m high indoor laboratory, 3D biochemical and gait analysis and scanning, manufacturing workshop, MRI, CT, ultrasound, body composition measurement and physiological testing and technology demonstration hub.
It will also feature indoor and outdoor facilities for 70 researchers to carry out research on health and physical activity in partnership with the private sector.
This will form a central part of the City Region's Advanced Manufacturing Innovation District – a 2,000 acre centre of excellence for innovation-led research and industrial collaboration.