Contractor to build six-storey office block for banking giant HSBC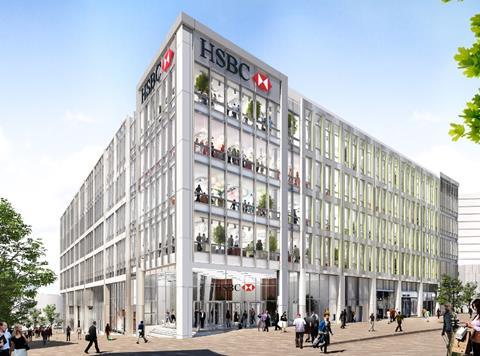 Bam has won the first phase of Sheffield's long-awaited £480m city centre retail quarter, Building can reveal.
The phase comprises a six-storey office block for banking giant HSBC, which committed to a 15-year lease of the scheme last autumn.
The office block kickstarts the wider 900,000 sq ft Sheffield retail quarter, which is being developed by Queensberry Real Estate in partnership with the city council.
Designed by Leonard Design Architects, the HSBC building on Wellington Street will provide 15,000 sq m of office space and 6,000 sq m of retail space, as well as a roof terrace.
HSBC is relocating to the city centre site from its current offices in Hoyle Street and Griffin House. Completion is expected in spring 2019.
Bam won a pre-construction deal on the phase last July, beating competiton from rival bidders Galliford Try, ISG and Interserve, acccording to tender evaluation documents published by Sheffield City Council.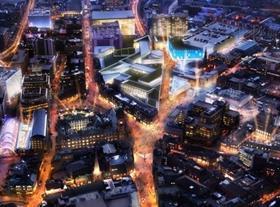 The overall retail quarter (visualisation pictured left) will see the area between Barkers Pool, Pinstone Street and Charter Square transformed with new shops, offices, restaurants and flats - although it is understood progress on the wider scheme has been held up over talks to secure retailer John Lewis as an anchor tenant.
Queensberry was picked as development partner last summer after a three-year search to replace retail developer Hammerson, which quit the scheme in 2013.
Turner & Townsend is programme, project, cost and procurement manager on the project.
Sheffield council confirmed the contract award and said main construction activity on the HSBC building and associated public realm will start shortly, with completion due in the first half of 2019.
The council said "negotiations are continuing with John Lewis", adding: "Sheffield Retail Quarter will transform the heart of Sheffield and will offer a mix of retail units, restaurants and entertainment venues in a scheme that will deliver a new mixed-used quarter in the heart of the city."
Kelvin Pollard, Bam construction director, said: "This is Sheffield's most significant construction scheme, and our track record in the City is already second to none, so BAM are thrilled to be working on something that affects the lives of so many people here.
"It's a demanding and complex scheme, requiring a well-developed suite of skills and expertise, and a modern approach to technology and collaboration."