Dutch contracting giant keeping an eye on Brexit as UK profit falls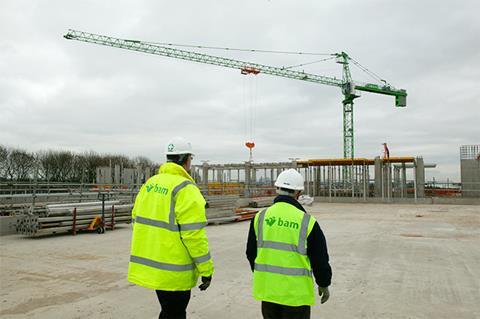 Royal Bam's UK arm posted a 38% fall in pre-tax profit for the first six months of 2019, despite delivering what the Dutch contracting giant called a "robust performance".
The group said its UK construction and property arm made a "solid contribution" while the country's civil engineering operation saw a slow start to the year.
Bam's UK business delivered total revenue of €883m (£807m), down 3% and pre-tax profit of €15.7m (£14m), down 38%.
The group said uncertainty was continuing around Brexit and that while civil engineering remained relatively stable it was seeing some some slowdown in construction and property.
The UK business recently won the £65m job to redevelop the art, architecture and design school in east London known as the Cass.
But its role in the £1bn Silvertown Tunnel scheme as part of the Transport for London-appointed Riverlink consortium was thrown into doubt after reserve bidder Silver Thames Connect (STC) – a joint venture which includes German construction company Hochtief and Spanish engineers Dragados and Iridium Concesiones de Infraestructuras – issued a legal challenge.
Royal Bam said cost overruns totalling €94m (£86m) on projects in Germany, the Netherlands, Ireland and the firm's international operation resulted in a total group pre-tax loss for the six months to the end of June 2019 of €27.2m (£25m) on turnover of €3.5bn (£3.2bn), up 7%.
Bam said it was in talks with clients to recover the costs, but it could not say how much it might be able to claw back, or when.
The group said it expected to deliver a 1% pre-tax margin for 2019, half of 2018's figure, on turnover which it expected to be "slightly higher" than last year's €7.2bn (£6.6bn), when it posted a pre-tax profit of €153m (£140m).
Bam said it hoped to be able to deliver a margin of between 2% and 4% in 2020.
Rob van Wingerden, Royal Bam's chief executive, said he "regretted" the negative impact of the extra costs on projects in Germany and across its international business.
The Bam boss also said the firm was "monitoring the situation around Brexit carefully".