Barclays has hit back at consultant Hurley Palmer Flatt in the firms' ongoing High Court battle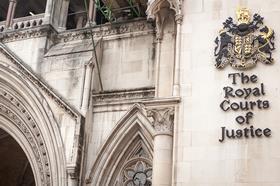 Global banking giant Barclays has hit back at consultant Hurley Palmer Flatt in the firms' ongoing High Court battle over the design of a £66m data centre in Gloucestershire.
Barclays is suing Hurley Palmer Flatt (HPF) for £5.7m over alleged defects in HPF's design of a chilled water system used to prevent servers in the data centre from overheating, which it claims led to numerous problems and a multi-million pound repair bill.
Barclays filed its reply to HPF's defence in the High Court last month. It claims HPF's defence is "not sufficiently clear or particularised for the claimants to understand it."
Barclays alleged in its claim that HPF's "negligent" design led to "numerous failures" of components in the chilled water system once installed, which meant it was unable to use the centre to full capacity and had to undertake costly remedial works to correct the issues.
HPF strenuously denied claims of negligence. In its defence, HPF claimed the design was "largely but not exclusively the responsibility of HPF" and that it was "contractually obliged" to comply with designs for the chilled water system drawn up by M&E consultant MEIT, which it said was employed by Barclays prior to HPF's involvement.
In its reply, Barclays claims that if MEIT's design contained defective features - which Barclays denies - HPF was nonetheless "not contractually obliged to retain such features" and instead had "a positive obligation to identify any deficiencies in MEIT's design and to amend the said design". Barclays also claims HPF's design is "fundamentally different" to MEIT's design.
HPF claimed in its defence that Barclays' remedial works, designed by consultant RED and carried out by contractor Interserve, were "excessive" and that problems with the chilled water system could have been rectified more cheaply and more straightforwardly. Barclays denies this and claims the RED scheme is a "reasonable" measure to "rectify HPF's negligent design" and was carried out at "reasonable cost pursuant to a competitive tender process". Barclays also claims in its response to HPF's request for further information that it is still paying off the RED scheme, claiming costs "continue to be incurred".
Both declined to comment further. MEIT, which is not formally a party to proceedings, has previously "strongly refuted" any implication it was at fault for the problems.