House builder says it has dropped prices on a number of jobs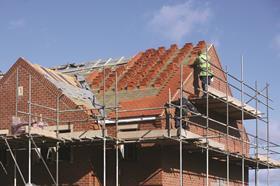 Barratt has warned the London luxury residential market is "challenging" just weeks after saying trading was settling down following the EU referendum in June.
In September, the firm said it was moving back to "business as usual" but in a trading update today said it was dropping prices on some its high-end developments.
In its latest trading update, the firm said: "Market conditions in London at higher selling prices remain more challenging. To mitigate these risks we have taken pricing action on a number of our sites in London."
It also added that it has offloaded a complete block in the capital – a scheme of 39 apartments – for £47m.
Barratt said sales rates in London were softer compared to last year but added that the rates were outperforming those from 2015 for its Northern and Central regions.
And it said that overall market conditions remained healthy and consumer demand robust due to an undersupply of homes, good mortgage availability and government schemes such as Help to Buy.
Chief executive David Thomas said: "This has been another good trading period for the Group. Consumer demand is strong supported by good mortgage availability.
"We are mindful of the potential for economic uncertainty created by the outcome of the EU Referendum. However, market fundamentals are robust, and we remain a housebuilder of choice."
The firm said in the period between July 1 and November 13 it was working at 385 sites, compared to 380 for the same period last year, having started at 69 new schemes during this time.
Chief Executive David Thomas said: "Barratt's commitment to quality design, build and excellence in market-leading customer service has supported our strong sales performance.
"Our focus remains on maintaining good operational and financial performance, and delivering attractive shareholder returns."
The firm is set to hand over £248m in dividends to shareholders next week.