Housebuilder says it plans to build 3,400 homes on sites
Barratt has announced it is to open 16 more sites across Scotland this year, leading to a further 3,400 homes being built across the country.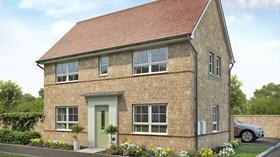 The housebuilder also signalled its intention to buy and develop a further 18 sites north of the border during the next 12 months, having opened 16 sites in Scotland last year.
With demand for new homes on the increase – around 465,000 are said to be required by 2035 – Barratt's Scottish regional development manager Douglas McLeod said the firm was expecting another busy year across Scotland for both its Barratt Homes and David Wilson Homes brands.
"Although there are clearly some concerns around the potential impact of Brexit we're confident that the economic fundamentals remain favourable towards housebuilding," he added.
McLeod said Barratt would be announcing plans to set up a fund for local charities to work on projects in and around its developments.
Last month Barratt announced a 19% hike in first half pre-tax profit to £408m on turnover of £2.1bn, up 7%.