Housebuilder says increase reflects strong trading and mortgage availability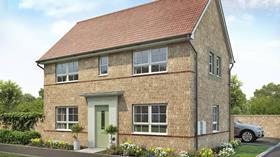 Forward sales at Barratt Developments have hit a record £3.3bn, with results for the group's financial year ending 30 June 2018 expected to meet its forecasts.
In an update in advance of its year end, the UK's largest housebuilder said the forward sales hike of 2.5% reflected strong trading across the UK, fuelled by good customer demand and what it called "an attractive lending environment".
Expecting to spend around £1.1bn on land in the current year, Barratt said it expected to buy more than 20,000 plots in the current year, up 8% on 2017.
The group said it was still investing in trials for new construction methods and reckoned on building more than 1,900 houses using timber frame, large format block or light gauge steel frame.
Earlier this month Barratt's chief executive David Thomas cast doubts on offsite construction in housing, which he argued risked producing rows of identikit homes.
Thomas told Building that one of the reasons it had shut down its offsite factory business Advance Housing in 2007 after just five years' operation was that planners were looking for more variation in design than the eight options it was offering.
Barratt will be announcing its results for the year to the end of June 2018 in November.