Papers submitted to Wandsworth council request viability review potentially putting up to 250 affordable homes at risk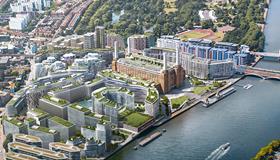 The firm behind the redevelopment of London's Battersea Power Station has asked the local council for permission to look again at the amount of affordable housing it has to provide.
Battersea Power Station Development Company (BPSDC) - which under its existing planning consent has agreed to deliver 636 affordable homes out of a total 3,444 - has applied to Wandsworth council to amend its section 106 planning obligations.
In papers submitted to the council, the developer requested that a viability review be conducted towards the end of the scheme to reassess how many affordable homes it is able to deliver, potentially putting up to 250 affordable homes at risk.
Under the proposed amended plans, 103 affordable homes that were meant to be delivered as part of a Foster + Partners-designed building in Phase 3 of the scheme, directly behind the power station, would be shelved and potentially instead rolled into Phase 5 – which is earmarked for 147 affordable units – subject to the proposed review.
In return, BPSDC has offered to begin construction of 386 affordable housing units planned for later in the scheme as early as next year. These units will be built on a separate site to Battersea Power Station - the site of the former Dairy Crest distribution centre and the Sleaford Industrial Estate, near to New Covent Garden Market.
In its application, the developer says a reassessment of affordable homes provision is required due to increased economic uncertainty and construction cost inflation, adding that its viability position has "not remained at the level envisaged by the original appraisal".
But BPSDC argues in the document that it is still targeting 15% provision of affordable homes across the development and, if economic conditions improve, the proportion could increase up to a maximum of 33%.
The proposed changes to the make-up of the phases comes after Building revealed last month that French contractor Bougyues will be replaced as the main contractor on the £1bn Phase 3 contract, with Phase 1 contractor Carillion tipped take over the role.
A spokesperson for BPSDC said: "This application relates to a proposal whereby roughly a sixth of the total anticipated provision of affordable homes are relocated back to another part of the site so that we can press ahead with bringing forward nearly 400 affordable homes earlier than originally planned.
"In addition, the application brings us into line with revised area-wide policy, which requires a review mechanism closer to completion of the entire project so that everyone can be certain the quantum of affordable housing is still broadly in line with the financial performance of the project."