Approval follows a 12-month period of design consultation with local residents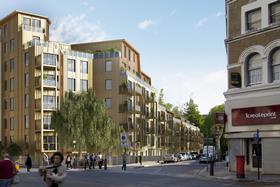 Architect BDP has been given planning permission for a redevelopment project at Tollgate Gardens in Madia Vale, London.
The project involves 195 terraced houses set around a new communal garden, and a further 53 refurbished homes in Tollgate House.
The current ground level will be used as car parking, and the garden will form a plateau above. The houses will be positioned so the street will be accessible from the side of each individual house opposite to the garden.
BDP's design was selected in September 2012, beating off competition from Glenn Howells and Maccreanor Lavington.
Residents were invited to give their input over a 12-month period.
Cllr Daniel Astaire, Westminster City Council cabinet member for business and housing, said: "Tollgate Gardens is a great example to show that residents working with architects to design their own neighbourhood really works."