Bad weather sends PMI score into reverse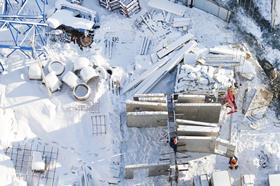 Last month's Beast from the East played havoc with domestic construction activity, plunging Markit/CIPS' bellwether index below 50 for the first time in six months.
After a subdued February, last month's Purchasing Managers' Index fell from 51.4 to 47, three points below the no-change threshold.
Snow-related disruption had a "particularly negative" impact on civil engineering projects, which witnessed the sharpest activity fall since 2013, Markit said.
Sites ground to a halt at the start of the month after the UK was hit by heavy snow and sub-zero temperatures.
The Federation of Master Builders reported at the time that workers had been told not to come back until sites had thawed out, adding that some firms were reporting the freezing temperatures meant it was too cold to lay bricks.
Commercial activity also declined at a rate not seen since September last year, while housing bucked the downward trend, albeit the increase was "marginal". A decline in new orders was the biggest since July 2016.
Scape chief executive Mark Robinson admitted: "The impact of the weather demonstrates the fragility of the construction sector."
A dip in the availability of sub-contractors meant their average prices registered the highest increase for six months and high raw material costs continued, with rising prices for metals and insulation products.
But the poor weather appeared not to have dented expectations for future business activity, and job creation also picked up last month.
Max Jones, global corporates relationship director for construction at Lloyds Bank Commercial Banking, said the March data capped off a difficult quarter for the sector following the collapse of Carillion in January.
"Construction firms are telling us that work is out there to be won, but they are anxious not to be caught in a race to the bottom, chasing revenue at the expense of higher-margin work. Instead, their focus continues to be on ensuring the robustness of their balance sheets amid greater scrutiny from sector investors.
"The London market, which is most exposed to Brexit uncertainty, remains fragile, but the regions are proving more resilient. It all suggests a mixed picture, and a reading below 50 is unsurprising at a time when official data suggests construction is technically in recession."