Housebuilder reports strong half-year results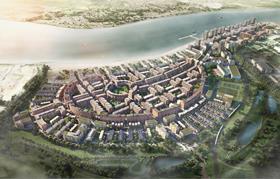 Bellway has revealed it sold its 51% stake in the massive Barking Riverside regeneration scheme for £43.5m.
In strong half-year results posted this morning, the housebuilder said the sale of its interest in the east London scheme to L&Q - revealed earlier this month - will net it £43.5m, to be paid over three years, with the first £17m installment paid at the time of the deal.
In its results for the six months to January 2016, Bellway posted a 43% increase in pre-tax profit to £227m, up from £159m for the previous year. Revenue rose 32% to £1.1bn, up from £831m, on the back of strong volume growth and bumper capital returns.
Bellway reported favourable trading conditions on the back of the government's ongoing plans to increase housing output, including the extension of the Help to Buy scheme to 2021.
However, the group warned that the industry is still facing a shortage of skilled labour, particularly in London, which is affecting the sectors ability to further increase housing output.
The lack of skilled labour has had the effect of maintaining upward pressure on labour costs, but Bellway said they were managing them through careful management of its construction programmes and budgetary control.
Bellway said its new option agreement at the Barking Riverside scheme (pictured) entitled the firm to purchase 2,600 development plots on the remainder of the site, in addition to the 438 plots the group still owns. Bellway said the deal relieves it from its "substantial funding obligations" with regards to the ongoing remediation and infrastructure requirements of the long term, capital intensive site.
The group said it plans to reinvest the funds from the disposal into land opportunities and has already purchased a site in Horsham, West Sussex, with outline planning permission for 165 homes.
Bellway chief executive Ted Ayres said the outlook was "positive" and the group anticipated that Help to Buy would reinforce demand for affordably priced new homes in the capital providing further support for our divisions operating in London.
He added that the firm was optimistic about the government's Starter Homes initiative.