Firm blames slowing housing market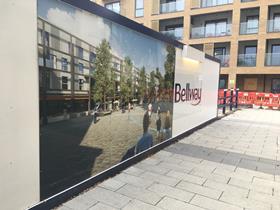 Bellway's turnover jumped 12% year-on-year in the six months to 31 January as the firm saw a hike in housing completions and average selling price.
But in a trading update, the firm warned that its operating margin had dipped to 21.5% – down from 22.2% a year ago – as inflation of house prices has begun to slow.
And its order book fell to £1.17bn, 10% lower than the £1.3bn figure in 2018.
The Newcastle-headquartered firm said its turnover for the six-month period was in touching distance of £1.5bn, with housing completions up 5.6% to 5,007.
The average selling price of a home has risen 6.5% to £293,800, in part because of a greater number of completions at the firm's flagship development at Nine Elms, Battersea.
The site contributed 125 homes to Bellway's first half, with an average selling price of £828,500.
Bellway's share price had fallen by 2% as of this morning.
The group will announce its full interim results on 27 March.