Housebuilder says it wants to sell up to 18,000 homes a year as it reports doubling in pre-tax profit
Bellway has set out ambitious plans to grow output by nearly 80% as it reported a doubling of pre-tax profit in the year to July.
The volume housebuilder said it had secured enough land in the last year to grow annual sales completions "over several years" from just over 10,000 homes this year to as much as 18,000 homes per annum.
The Newcastle-based firm said that having been the fourth largest player in the industry for some time, it now wanted to take a "larger share of the overall housing market".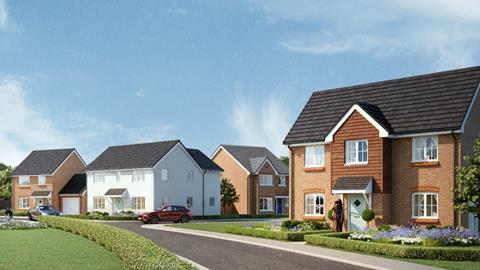 The new ambition, beyond its previously stated aim of hitting 14,000 sales per year, came as Bellway reported pre-tax profit of £479m, up 102% on the covid-affected year to July 2020, from revenue of £3.12bn.
The turnover figure was 40% up on the £2.23bn recorded in the 2020 year which ended just after the first spring lockdown, albeit still 2.8% below the record turnover achieved in 2019.
Bellway's pre-tax profit figure included a further £51.8m write-off for repairs to previously built buildings affected by the fire safety crisis, taking the housebuilder's total spend on this issue since 2017 to £165m.
The firm said it expected to grow sales volume this year by around 10% from the 10,132 homes sold this year to more than 11,100 homes in the twelve months to July 2022.
Bellway, which operates from 22 divisions across the country, said it had added a "record" 19,819 housing plots to its land bank in the year, up from just 12,124 last year, giving it the opportunity grow volume and grow margins in the years ahead.
As a stepping stone to the new target, Bellway chairman Paul Hampden Smith said Bellway was targeting sales of 12,200 homes in 2023.
This is despite the fact it said that construction output growth was currently being constrained by the lack of availability of materials, driven by the "national shortage of heavy goods vehicle drivers and recent disruption to fuel supplies", with this issue exacerbated by "intermittent labour shortages" in the supply chain due to covid.
Chief executive Jason Honeyman said: "In general, these constraints are manageable by adopting good procurement disciplines and forward planning. They will, however, mean that construction output in the first half of financial year 2022 is likely to remain similar to that achieved in the first half of financial year 2021."
Bellway said construction inflation of the year was in "mid-single digits" with these rises "in general" offset by house price inflation.
Bellway also reported a drop in the use of the government's Help to Buy support for first time buyers in the year. It said the volume of its sales supported by Help to Buy dropped from 40% in 2020 to 30% this year.