Architect's Camden canalside plan wins officers' backing
Plans drawn up by Bennetts Associates to replace a former Royal Mail complex near London's King's Cross with a 12-storey mixed-use scheme have been approved by Camden's planning committee.
Built in the 1980s, the St Pancras Way block – which backs on to the Regent's Canal – is known as the Ugly Brown Building. The four-storey building, which has a 1.14ha footprint, was split into three units in a 2000 remodelling. Two of the units are owned by the British Airways Pension Fund, while the middle unit is owned by fashion brand Ted Baker which uses the building as its head office.
Ted Baker uses the name "Ugly Brown Building" in its formal address, while Bennetts used the name as the title for its design and access statement. Ted Baker plans to remain at the development.
The Bennetts proposals will replace the existing building with six new structures, ranging in height from two to 12 storeys, and delivering 54,247sq m of new business space, 73 new apartments, an 87-bedroom hotel, 6,100sq m of retail space and just over 6,000sq m of storage space.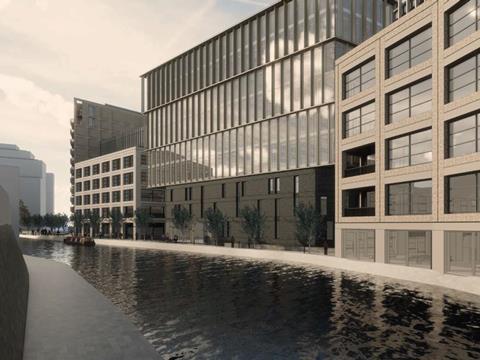 Overall, the development will deliver a total of 80,347sq m of new space; the current buildings deliver 26,100sq m.
The scheme – which has been created for Reef Estates, Ted Baker and the BA Pension Fund – also delivers extensive landscaping and reopens access to the canal from the site.
Recommending the scheme for approval to a meeting of Camden council's planning committee, officers said the layout of the scheme had been "fundamentally revised to open up access to the canal" following concerns expressed in earlier rounds of consultation.
They said the proposals were an improvement on the existing buildings on the site, which made a negative contribution to the local conservation area, and that the buildings fronting the canal had detailed designs that related to warehouse buildings that would have originally fronted the canal.
London mayor Sadiq Khan will have the final say on the scheme.