The West London Construction Academy will offer courses including bricklaying, plastering, drylining and carpentry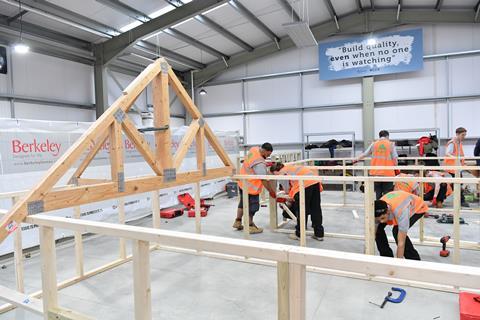 A new academy designed to produce skilled tradespeople of the future has opened in west London.
Developed jointly by housebuilder Berkeley Group and West London College on the former's 88-acre regeneration site in Southall – Southall Waterside – the West London Construction Academy (pictured) will offer courses including bricklaying, plastering, drylining and carpentry to anyone aged 16 and above.
The 'By Industry, For Industry' curriculum has been designed by Berkeley, the college and trade partners. Apprentices will gain on-site experience alongside classroom and online learning.
Berkeley Group's chief executive Rob Perrins said the academy aimed to address the industry's skills gap for the long term "by inspiring the next generation and preparing them for the world of work, including giving them the best chance of securing a placement at the end of their apprenticeships".
Perrins said an apprenticeship was often the first step of a lifelong career. "At Berkeley half of our 15 divisional managing directors don't have a degree, with four starting out as apprentices. The experience they gained onsite was invaluable and goes to show that apprenticeships open doors and are just as valuable as degrees, if not more."
Earlier this month the chancellor of the exchequer Philip Hammond announced an overhaul of the government's 18-month-old apprenticeship scheme and an extra £90m for those employers who paid the levy who wanted to spend a quarter of their apprenticeship funds on people working for businesses in their supply chain.
Mark Farmer, chief executive of consultancy Cast and the author of the 'Reform Or Die' report on the future of the construction industry, labelled Hammond's proposals "piecemeal and reactive modifications".