But housebuilder says it is on course to deliver £3bn of pre-tax profit in the five years to 2021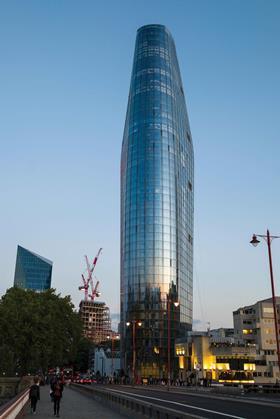 Berkeley Group announced a previously flagged fall in annual pre-tax profit in the year to April.
Profit during the period fell more than one fifth to £775m but the firm had previously said earnings were likely to slip thanks to sales on a number of high-end sites in London coming to an end.
And the One Blackfriars (pictured) developer said pre-tax profit was expected to fall by a further third this year.
But it told investors it was well ahead of its plan to deliver £3bn in pre-tax profit in the five years to the end of the 2020/21 financial year.
Berkeley, currently developing schemes including Royal Arsenal Riverside in Greenwich, reported annual turnover of £2.96bn, up 4%.
The firm said 3,698 new homes were sold over the year, similar to last year, at an average selling price of £748,000, up 4%.
It added the ongoing Brexit delay was not helping housebuilders build more homes.
"Businesses are used to, and indeed thrive on, changing economic and commercial conditions but they do need a supportive and stable political and regulatory environment to invest with confidence and stimulate growth," it said.
The firm has net cash of nearly £1bn and forward sales of £1.8bn.
Berkeley also revealed its remuneration committee was consulting with shareholders over a new three-year remuneration policy that it will put to the firm's next AGM in September.