Crest Nicholson and Barratt Developments round out the top three in JLL study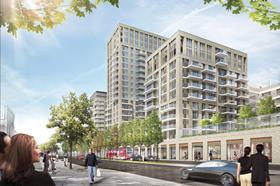 Berkeley has been named the most sustainable housebuilder in the UK for the eighth year running, according to a study by consultant Jones Lang LaSalle.
The NextGeneration report, written by Jones Lang LaSalle, scores the 25 biggest housebuilders out of 250 across environmental, social and economic sustainability criteria.
The initiative, which scores housebuilders each year, has been running since 2006.
Housebuilders Crest Nicholson and Barratt Developments were rated second and third respectively.
Rob Perrins, managing director at Berkeley Group, said the sustainability agenda had "shifted from a narrow focus on carbon reduction to creating successful places".
He added: "It's about integrating social sustainability, job creation and environmental management.
"I think the future challenge for housebuilders is not to compete with each other but to match the performance of companies like Puma, BT and Kingfisher. In a buoyant market, every developer should take sustainability that seriously."
The assessment process works in two stages with the first stage assessing publically available information and the second looking at detailed information not in the public domain. Only housebuilder who are NextGeneration members receive the second stage assessment, which they pay a fee for.
Other highly rated firms included Linden Homes, Taylor Wimpey and Coutryside.