Firm delays launching new developments because of lockdowns
Reservations at Berkeley Group are set to fall by a fifth in the current financial year after the London-focused housebuilder delayed opening sites due to lockdown.
The firm said in a trading update today that it was on course to report pre-tax profit of around £500m for the 12 months to the end of April, as previously indicated.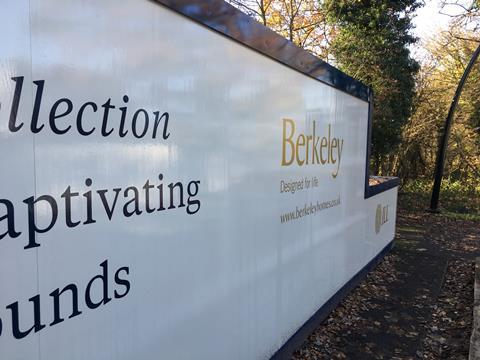 But it said the value of reservations made in the current financial year would end up around 20% lower than last year after the firm "re-profiled the launch of new developments and phases into the market until the economy opens up post-lockdown".
This was despite the fact that enquiry levels had been "consistently strong" and reservation levels robust, "where we have had availability of stock".
Given the slowdown in reservations, the firm said forward sales would end the year at around £1.7bn, down from £1.9bn last year.
The approach is in sharp contrast to other housebuilders, many of which have rushed to build sites as fast as possible to take advantage of the stamp duty holiday-fuelled housing market surge seen in the wake of the spring lockdown, and reporting record forward sales.
Berkeley said both pricing and cancellation rates in the update period – covering 1 November to 28 February – were stable.
The business, which is in search of a permanent chair after the death of its founder and chairman Tony Pidgley last June, described the current operating environment as "volatile" given the challenges of consecutive lockdowns and Brexit.
Despite the pause in releasing some schemes, the firm said it had continued to invest in its long-term regeneration sites such as Woodberry Down, in north-east London, and Kidbrooke, in south-east London, and that on-site labour numbers were "above pre-pandemic levels".
Berkeley said it was experiencing "some materials delays and price increases in specific areas", but that the overall impact on build costs of these problems had been "neutral".
Cenkos analyst Kevin Cammack said the decision to defer openings probably reflected Berkeley's reliance on investor and overseas demand for its homes, which he said accounted for anything up to two-thirds of sales, and which would have been impacted by travel restrictions during lockdowns and the end of the Brexit transition period.
The firm will release its full-year results on 23 June.