Country's second biggest contractor due to unveil annual results on Thursday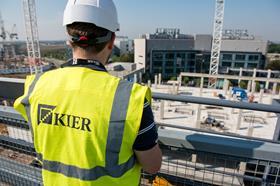 Short positions in Kier's shares have rocketed as hedge funds bet against the contractor in the run-up to its end of year results on Thursday.
According to data from IHS Markit, that was published in yesterday's Sunday newspapers, almost 18% of Kier's shares are being shorted, up from 10% a month ago, making it the third most shorted company on the London Stock Exchange.
Short sellers borrow a stock and immediately sell it with the intention of buying it back at a lower price and pocketing the difference.
Short positions in Britain's second largest contractor stood at just 2% at the beginning of the year but companies such as Marshall Wace, BlackRock and GMT Capital – all of which profited from shorting Carillion – have ramped up pressure on Kier.
In a statement following the IHS data, Kier said: "At our last trading update in July, we confirmed that the group's underlying profit and earnings remain in line with market and management expectations.

"The group maintains tight control on its balance sheet and we look forward to updating investors on [Thursday]," it added.
In July, the firm announced a streamlining initiative, 'Future Proofing Kier,' with chief executive Haydn Mursell saying it "will improve productivity, include the disposal of non-core operations and deliver an improvement in operating margins and cash generation".
Last month the firm promoted Claudio Veritiero to chief operating officer – prompting two executive directors to leave with immediate effect.
Cenkos analyst Kevin Cammack said its upcoming results were "another chance for Kier to try and convince the market, if not the growing 'Shorts' that, firstly, it is not the latest contracting basket case and, secondly, that its 2020 targets have real legitimacy".