Loss falls from £2.2m in 2011 to £0.5m last year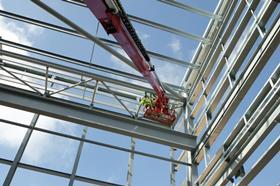 Steel contractor Billington Holdings has reported a 29% fall in revenue in 2012 and continued losses.
In its accounts for the year to 31 December 2012 the firm reported revenue of £38.2m, down from £53.9m in 2011.
However, its pre-tax loss reduced from £2.2m in 2011 to £0.5m last year.
The firm said the results were in line with management's expectations.
Steve Fareham, chief executive of Billington Holdings, said the market remained "highly challenging".
He said the firm had made "operational efficiency improvements" and was being selective about the work it took on to improve margins.
He said he expected the firms structural steel business, Billington Structures, to shrink from 80% of the groups turnover to 60% over the next couple of years.
He said: "We hope to reduce that down by growing our architectural steel work, our stairs business and hoardings."
Fareham said he was targeting structural steel work in the rail and energy sectors with some success winning roles on projects for Network Rail and the Drax power station.
He said the firms refocusing on niche markets could entail acquisitions if the "right opportunity presented itself".
He also said the fall in revenue was due to a decision to switch to a single shift pattern at the firms steel fabrication facilities to meet market demand. Redundancy costs accounted for the majority of the firm's pre-tax loss.
He added: "There was a growing sense of order and stability in structural steel markets towards the end of 2012, helped by further small reductions in capacity as smaller players consolidated or failed. Although we expect conditions to remain challenging throughout 2013, we do foresee marginal improvement.
"Having invested accordingly to take advantage of opportunities in non-traditional, growth sectors, and with our financial strength intact, we look to the future with cautious optimism."