Barnsley-based steel specialist benefits from strong demand and growing in-house capacity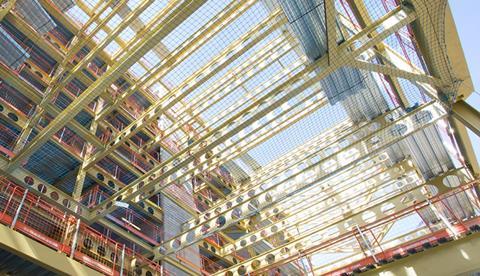 Boosted by improved margins across its structural steel business, Billington posted a 29% hike in pre-tax profit in the first six months of the year and said it expected to see a similar performance across the group in the second half.
Celebrating its 70th anniversary, the Barnsley-based firm reported turnover for the six months to 30 June 2017 up 27% to £34.3m and pre-tax profit of £2.24m, up 29%.
Billington Structures, the group's structural steel operation, had shifted its focus in the first half to a smaller number of what it called "significant projects", including the Wellington Place business park in Leeds (pictured), while a number of these contracts had "outperformed against initial tender allowances, resulting in improved profits", largely thanks to work being carried out more efficiently.
The firm's Shafton Steel Services business, located near the group's head offices and acquired in December 2015, also performed well and saw an increase in workforce of 41% in the first half to cope with an increased workload. Plans are in place to add more staff in the second half, the group added.
Billington said the Shafton facility offered up the opportunity of bringing back in-house previously subcontracted work, as well as boosting capacity for Billington Structures.
The group currently employs 385 staff, a number likely to rise to 400 by the year end.
Commenting on the results, chief executive Mark Smith said: "Our growth strategy remains on track, with progress continuing to be made at Shafton [and] we're beginning to realise the benefits of the increased in-house capacity.
"A year on from the Brexit vote the market appears to be in a stable position, with UK consumption of constructional steel forecast to remain consistent into 2020.
"Brexit has also allowed the company to explore opportunities in Europe, which remains an ongoing proposition for the group."
Ongoing projects include a retail centre in Sellyoak, near Birmingham, a distribution hub in Avonmouth, and an energy-from-waste facility in Lincolnshire.