Redevelopment will see capacity more than double for 2022 games
Birmingham council has officially started the search for a main contractor for the redevelopment of Alexander Stadium – which will host the opening and closing ceremonies and the athletics at the 2022 Commonwealth Games.
In a contract notice published to the Official Journal today, the council has said the main contract will be worth £63m.
The city council originally said it wanted to publish a contract notice for the job at the end of January with a shortlist of six firms drawn up by the end of March.
But last month a spokesperson for the council told Building the procurement would start by the end of the April, saying it didn't expect the delay to hold up construction work getting underway early next year.
At the time he said: "Tender documents are targeted to be issued out at the end of April. Construction work is due to begin in early 2020 as previously stated."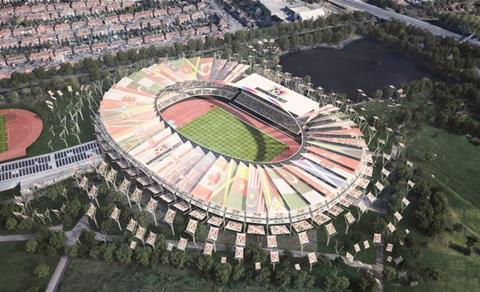 The successful contractor will be responsible for the construction of a new west stand and of the new north and south bowl seating.
They will also be responsible for remodelling the site levels and access as well as the construction and installation of both the main competition and warm up tracks.
Whoever wins the contract will also be required to carry out associated highway and infrastructure works.
The revamp of the stadium, which is already home to governing body UK Athletics, will increase capacity from 12,700 to 40,000 for the duration of the games.
The redevelopment will increase the permanent capacity of the venue after the games to 20,000.
Mace is already working on the £70m redevelopment, acting as project manager, while Arup was appointed to draw up the designs in October last year.
The contract, which will also involve reconfiguring the stadium after the Games, will be run for three years.
Interested firms have until 7 June to register their interest.