The successful firm will build the scheme's first phase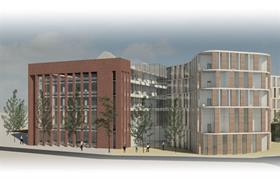 Birmingham university is on the hunt for a contractor to build the £40m first phase of its Molecular Sciences Building.
The successful contractor will be responsible for delivering the first of a two-phase building which will form a new hub for the university's molecular science research.
According to the university the first phase of the project is set to be delivered between 2019 and 2020, with the second stage to be completed in 2023-24.
The first phase is being designed to house researchers from the school of chemistry, some researchers from pharmacy and a small group of environmental scientists from the school of geography, earth and environmental sciences.
According to a notice published to the Official Journal the development is part of the university's wider Birmingham 2026 agenda and will also provide an inter-disciplinary post-graduate research student centre.
Interested companies have until 4 January to register their interest, with the university planning on inviting up to five firms to tender before whittling the shortlist down to two.