Housebuilder will build first 194 homes of 2,500-home scheme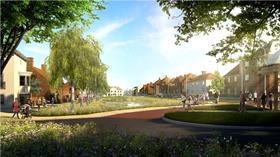 Grainger has appointed Bloor Homes to build the first phase of its 2,500-home Berewood Village scheme.
Bloor Homes will build 194 new homes, 77 of which will be affordable, in a deal signed up this week.
Construction will begin in November, with the first homes expected to be completed in Spring 2013.
Berewood Village is being built on an 168-acre plot next to Waterlooville in Hampshire.
The scheme received outline planning consent late in 2011 along with detailed planning consent for this first phase.
John Beresford, development director at Grainger, said: "When we first met Bloor Homes they stood out as an organisation which clearly understood the long term nature of the Berewood development and the fact that Grainger wants to create a fantastic place to live. I visited a few of their current schemes and was impressed with the high quality of the developments.
"After years of careful planning and community consultation we can now look forward to the first residents moving into Berewood by the summertime next year.
"We have spent particular time and attention ensuring that the development is of the highest quality in design and build, and we can't wait to see it come to life."
Adrian Bloor, southern regional chairman at Bloor Homes, said: "Bloor Homes are delighted to have been selected by Grainger Plc to deliver the first phase of this exciting Berewood neighbourhood development.
"We were particularly attracted to the project by the high quality of design of the houses and the attention to detail in the infrastructure. Combined, these two qualities will create a premium environment which complements the Bloor Homes brand."