Review sets out 27 recommendations to boost uptake of energy efficiency measures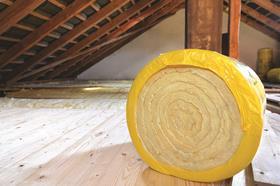 Peter Bonfield's long-awaited review into domestic energy efficiency has called for a government-backed quality mark for green home improvements to protect homeowners.
The BRE chief executive's review, co-commissioned in July last year by then energy secretary Amber Rudd and then communities secretary Greg Clark after the collapse of the failed Green Deal, stops short of recommending policy replacements but makes 27 recommendations.
In his review, Bonfield said there have been "too many instances of poor quality [energy efficiency] installations being made by companies who do not have the skills, quality levels or core values required to operate responsibly in this market."
His review proposes a single quality mark for all energy efficiency and renewable energy measures, which would be backed by a consumer charter, code of conduct and code of practice, similar to the Gas Safe Register, TrustMark or Kitemark.
It recommends clients including government, social landlords and private finance organisations require firms to have the quality mark as a pre-requisite to win work.
It also calls for an overarching standards framework for the delivery of retrofit of energy efficiency and renewable energy measures, which would build on existing standards and be made freely available under licence to all installers.
The review proposes a Strategic Governance Board – made up of industry and government representatives – be created to ensure the framework is implemented.
In a joint ministerial foreword, housing minister Gavin Barwell and energy minister Baroness Neville-Rolfe said the review offers a path to the "clear and robust quality framework" that large scale private investors – who are looking to increase lending to the sector – have been looking for.
They added: "Our focus in government, when considering possible action related to the recommendations, will be to intervene where it is necessary to create the enabling conditions in which markets can flourish.
"We support the intention of the review to provide a more simple and transparent framework which should reduce the need for government intervention across the energy efficiency and renewable energy sectors."
The review also calls for smart meters to be installed in as many properties as possible, regardless of property type, and says housing associations should work with government and the industry to ensure the standards framework applies to all of its roll-out of energy efficiency measures.