Mayor says more homes on Olympic park will be for rent as timetable for two neighbourhoods brought forward by six years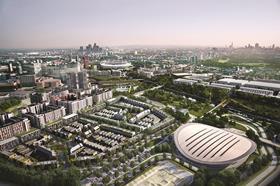 Boris Johnson has announced plans to accelerate by six years the development of 1,600 homes on two neighbourhoods on the Olympic park, with many more homes on the site to be for rent.
The Mayor of London and the London Legacy Development Corporation (LLDC) said today that development of the East Wick and Sweetwater neighbourhoods, which together will comprise 1,600 homes, would be accelerated with completion brought forward from 2029 to 2023.
LLDC said a substantial element of the scheme would now be designated as homes for rent, which would enable the scheme to be fast-tracked, with the first homes in the East Wick neighbourhood ready first for residents to move in from 2016.
Johnson said: "There's a huge need for more homes in London and this pressure will only increase as the city grows.
"Because of the massive interest in Queen Elizabeth Olympic Park, we have found a way to accelerate the delivery of two neighbourhoods including 1600 homes without compromising quality. It's a move that will help people get into the homes they want more quickly."