Report by panel including Stuart Lipton says body should be created to drive regeneration in the riot-hit area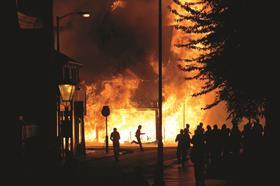 London mayor Boris Johnson has welcomed the findings of a new report which has recommended a dedicated organisation be created to spearhead regeneration in Tottenham.
The Independent Panel on Tottenham was convened by Johnson in the wake of riots in the area last year.
The panel, headed by property developer Sir Stuart Lipton, said the new organisation should include representation from the borough council, central government, the Greater London Authority (GLA) and private sector firms.
The panel's report is set to be considered as part of the Mayor's plans for the area. Johnson said he was "determined" that the "scenes [of rioting] should never be repeated".
He added: "The idea of a new organisation to help drive forward lasting change in Tottenham is particularly compelling and one that I will be looking at closely."
Lipton also recommended there be improvements to housing, transport links and increased employment opportunities in the area. Other members of the panel include Design Council Cabe deputy chairman Paul Finch and London School of Economics professor Tony Travers.