Mayor of London gives green light to plan for 25,000 homes and 65,000 jobs in West London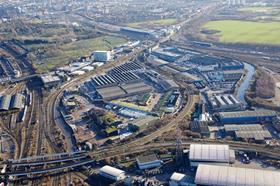 A planning framework to deliver more than 25,500 new homes and create up to 65,000 jobs at Old Oak and Park Royal in West London has been approved by the Mayor of London Boris Johnson.
Old Oak is set to become a major transport hub by 2026, with the opening of both a High Speed 2 and Crossrail station.
According to the Mayor, the area has the potential to develop thousands of homes and create up to 14% of Greater London's employment needs to 2031, with early estimates of a £7bn annual contribution to the UK economy.
The Old Oak and Park Royal Development Corporation was launched by the Mayor in April to drive the planning and regeneration of the site in the London boroughs of Hammersmith & Fulham, Brent and Ealing.
It comes after the Mayor published an Opportunity Area Planning Framework for consultation, setting out his long-term vision for the area.
Following the consultation, the Mayor has now approved the document which sets the strategic planning direction for the area.
The planning framework also aims to support the creation of 55,000 new jobs at Old Oak and a further 10,000 at Park Royal, as well as protect and enhance Park Royal as a strategic industrial location.
Sir Edward Lister, deputy mayor for planning and chairman of the Old Oak and Park Royal Development Corporation, said: "London urgently needs new homes and commercial space to meet its ever growing population and there can be no doubt that the regeneration of Old Oak represents a real opportunity to meet those needs.
"This strategy will mean we can plan for the future of this vast site as we work to create a new, thriving and sustainable part of the capital, where people will love to live, work, play and visit."